Meet the principal student team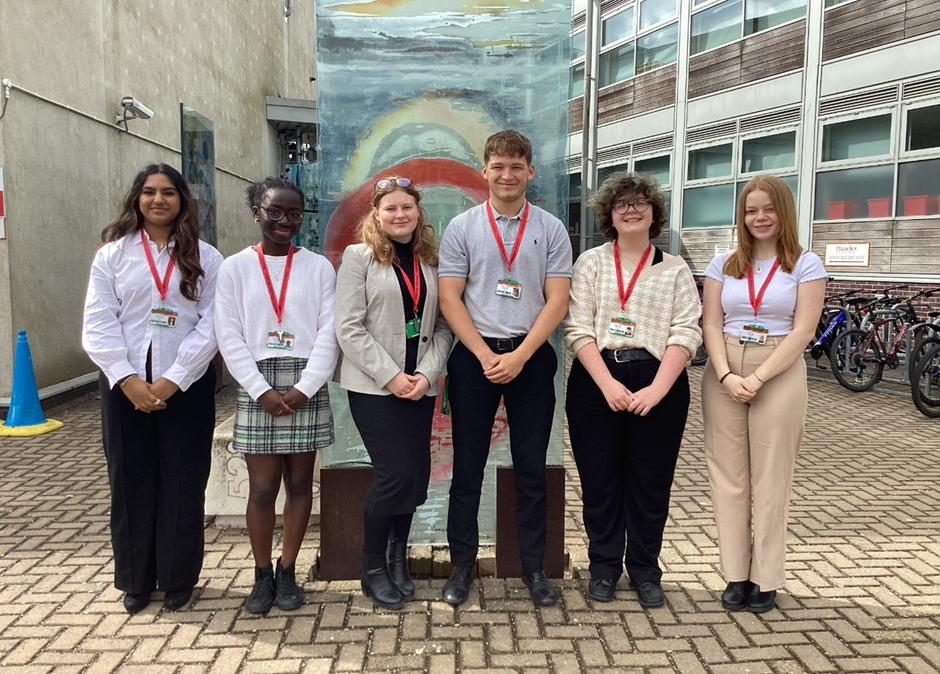 James- Principal Student
Hi, I'm James, I currently study. Economics, Geography and Finance. In my role I aim to make the school a better place and make everyone feel welcome and included into our school community, as I was when I joined in year 12.
Lydia- Principal Student
Hi, my Name is Lydia and I have been at Hazeley since Year 7. I study History, Politics and Geography at A-Level and hope to study History and Politics at university. I enjoy being a part of the Hazeley community and am a Subject Ambassador for Geography and a member of the Debate Club.
Noah- Deputy Principal Student
Hi! I'm Noah and I'm one of the Deputy Principal students. I study English Literature, Psychology, and Religious Studies; I'm also part of the Equality Group and the Mental Wellbeing Ambassadors. Outside of school, I volunteer for YiS, a young people's mental health service based in Milton Keynes, which has helped to increase my interest in psychology and get involved in the community. In university, I'm hoping to study Psychology, Forensic Psychology, or Criminology and Psychology.
Rhianna- Deputy Principal Student
Hi, I am Rhianna, Deputy Principal Student. I joined Hazeley as an external student and since becoming a member of the school's exceptional Sixth Form, I have been able to grow both academically and personally by participating in several opportunities to contribute to the school community. I am currently studying English Literature, French and Media Studies at A-Level in the hope of pursuing a Journalism degree at university.
Melis- Assistant Principal Student
Hey! I'm Melis and I study Geography, Psychology and Biology at A-Level in aspiration to study Geography at university. I've been at Hazeley since year 7, and I've enjoyed taking part in opportunities like DOFE, leading an Art club after school, going on an amazing trip to Nepal and being able to share ideas and improve my knowledge.

Vaibhavi- Assistant Principal Student
Hi! My name is Vaibhavi and I study Chemistry, Biology and Psychology at A-level with hopes of doing medicine at university. I joined the school in year 12, and I've enjoyed the vast range of opportunities the school presents to me. I am also a mental well-being and anti-bullying ambassador.