Uniform
Pre-Loved Uniform
We would like to encourage the cost-effective and sustainable process of using high quality pre-loved branded uniform.
If you would like to make use of any pre-loved branded uniform please email: enquiries@thehazeleyacademy.com
Also, if you have any branded uniform you would like to donate, please drop it into The Academy reception.
Uniform Provider
Our uniform provider is Kedaph Schoolwear Ltd, Unit A, Lennox Drive, Bletchley, Milton Keynes, MK2 2HH. Tel 01908 417142 Kedaph Schoolwear Website
Click & Collect Service – Place order online, wait for collection email, come to the main entrance between 12pm to 4pm for collection. Collections will be arranged between Monday – Friday.
Home Delivery Service – Place order online, Kedaph can arrange to post to home address.
Please call Kedaph Schoolwear on 01908 417142, 12pm to 4pm Mon-Fri, for advice on sizing or use our online sizing guide.
Phone orders are also accepted.
The Hazeley Academy Dress Code - Click here for the Hazeley Uniform Online Shop
Years 7-11
Dark Green Blazer with the Academy badge - Girls Blazer and Boys Blazer
Plain Black V-Neck Jumper with long sleeves (no logos on jumper and no cardigans)
House tie (compulsory for all year groups from September 2020)
Plain white formal shirt - must be tucked in, and collar fastened
Formal black trousers or one of the two compulsory skirt options shown below
Plain dark or tan tights or plain black or white socks
Plain black school shoes with a small low heel - Please refer to our guide here
A watch and one pair of stud earrings are allowed if a student wishes
Headscarf (if worn) should be plain white, black or dark green
Students opting to wear a skirt can choose from the two mandatory styles shown below.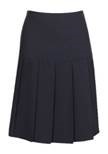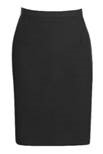 PE and Sports Uniform
Outdoor
Black/Scarlet outdoor sports top with The Hazeley logo (unisex)
Black shorts/skort (plain black tracksuit bottoms/sports leggings in the winter)
Black outdoor socks
Training shoes/boots as appropriate
Black Hazeley hooded top with Hazeley logo (optional)
Shin pads/Gum shields as appropriate
Indoor
White PE Polo shirt with The Hazeley logo (girls' fitted style available)
Black shorts/skort
White ankle socks
White trainers / footwear as appropriate (non marking soles)
The Following will not be accepted
Jeans, cords, hoodies, cardigans, trainers, polo shirts, caps and sweat bands are not part of the uniform and should not be worn.
Black shoes should be worn that are sensible for the Academy and not of trainer appearance. Shoes must be completely black with no coloured soles/heels/laces/logos.
Skirts in any other style other than our compulsory styles.
Shirts and blouses must be tucked in with the collar fastened and ties knotted and worn in a traditional manner.
Hair colour and style must be appropriate for the Academy. Bright fashion hair colours are not appropriate.
Rings, large earrings , necklaces and bangles are not part of the uniform and should not be worn.
Nose studs and other facial and body piercing jewellery must not be worn.
Makeup should be discreet and nail varnish should be clear only.
False eyelashes are not appropriate.
The shoe must be leather/synthetic leather/leather style 'school shoe'.
All black.
It can be laced or have Velcro, or straps.
It can have a pointed toe or rounded one.
The heel should not be excessive if it has one.
There should be no visible branding e.g. a Nike swoosh or the toe cover on a Converse shoe.
Styles and brands that are not acceptable:
Trainers of any type including, but not, exclusively:
Nike – or Nike style trainers
Converse – or Converse style trainers
Vans – or Vans style trainers in either leather or canvas
Adidas