Equality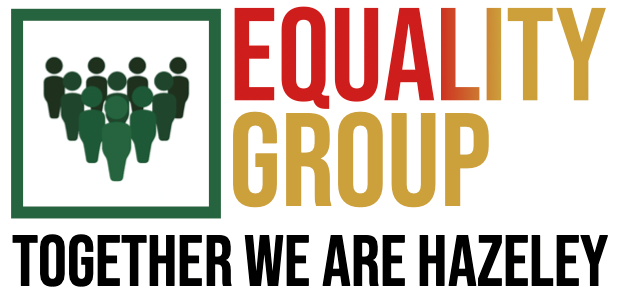 Hazeley's Day of Culture - May 2023 - to be involved in the 2024 event, email sdhanji@thehazeleyacademy.com
Our Trust vision is to "grow a vibrant community of exceptional people". Each of these words is important:
Grow stresses the organic nature of relationships.
Vibrant underlines the fact that we refuse to be normal or dull.
Community focuses on the importance of interconnectivity and our responsibility for the common good.
Exceptional reminds us that we do not all want to be the same and that the differences between us make us stronger.
Hazeley is not about being normal or perfect; it is about growing through taking part, growing though volunteering and growing though getting to know ourselves and each other.
Our equality group is at the heart of what we do - they are made up of a cross section of students, staff, and governors. They play a key role in making our vision come to life through an evolving range of projects and responsibilities which support the needs of all parts of our community and are aligned to the principles below:
Promoting understanding, tolerance and respect.
Encouraging that when things do go wrong, we respond in a restorative way.
Advocating that our community is positive in its communications, while also appreciating that sometimes new levels can only be reached through open, kind debate.
Being humble enough to give and receive support, knowing that equality issues constantly evolve.
Encouraging people to gain fulfilment by playing a positive role in our community, making it a better place for everyone.
We will never claim to be perfect, but this wonderful group of people work hard to ensure that we keep improving and I am very grateful for their guidance, support, energy, challenge and kindness.
They are a key part of what makes Hazeley so special. You can find details of the 5 Dimensions Trust overall equality objectives here: 5 Dimensions Trust - equality objectives
Mr Nelson
What our students have to say:
"I love being part of something that will bring great change."
"If inequality can be taught then so can justice."
"Not standing up to the oppression makes you no less than the oppressor."
"We make it a priority in Hazeley to be proactive regarding all forms of inequality."
"We help to create a safe and comfortable environment at Hazeley for everyone."
"Being part of the equality group is just a small step for big changes."
"The equality group reminds me that I have a voice and encourages me to speak up."