Academy Uniform
Guidance for Hazeley Academy Uniform
(Please access the attachments below for more details)
Our uniform provider is Kedaph Schoolwear Ltd.
Kedaph Schoolwear Ltd
Unit A, Lennox Road
Bletchley
Milton Keynes
MK2 2HH
01908 417142
Website - https://kedaphschoolwear.co.uk/your-school/the-hazeley-academy
Message from Kedaph Schoolwear Ltd 5/11/2020
As your School Uniform Supplier, we have made some changes to make sure we are available to serve you better during this second lockdown. Below is what we will do to support our schools and parents.
Covid 19 Update – From 5th November 2020
WE ARE OPEN ( restricted ).
As schools remain open, we will do our utmost best to continue offering our high service levels for our parents and our schools, within Government Regulations.
As of Thursday morning (5th November), whilst customers may not come in the shop to buy, we are happy to run our Online store fully. We will continue with our Click & Collect Service, as well as Home Delivery Service.
Click & Collect Service – Place Order Online, Wait for Collection Email, Come to the Main Entrance Between 12pm to 4pm for Collection. Collection will be Monday – Friday. We will be Closed on Saturdays.
Home Delivery Service – Place Order Online, we will Post to Home Address.
Please call the shop on 01908 417142, 12pm to 4pm Mon-Fri, for advice on sizing or use our Online Sizing Guide.
Those without internet or can't use the website can make Phone Orders.
Customers are not allowed in the Store.
Kind regards,
Nana Yaa Mensah (Mrs)
Business Development/ Relationship Manager
Kedaph Schoolwear Ltd
The Hazeley Academy Dress Code – Years 7-11
Dark Green Blazer with the Academy badge
Plain Black V-Neck Jumper with long sleeves (no logos on jumper and no cardigans)
House tie (compulsory for all year groups from September 2020)
Plain white formal shirt
Formal black trousers or one of the two compulsory skirt options shown below
Plain dark or tan tights or plain black or white socks
Plain black shoes, with a small low heel.
A watch and one pair of stud earrings are allowed if a student wishes
Headscarf (if worn) should be plain white, black or dark green
From September 2019, students wishing to wear a skirt must wear one of the two compulsory styles shown below.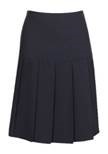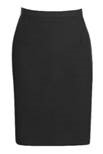 PE and Sports Uniform
Outdoor
Black/Scarlet outdoor sports top with The Hazeley logo (unisex)
Black shorts/skort (plain black tracksuit bottoms/sports leggings in the winter)
Black outdoor socks
Training shoes/boots as appropriate
Black Hazeley hooded top with Hazeley logo (optional)
Shin pads/Gum shields as appropriate
Indoor
White PE Polo shirt with The Hazeley logo (girls' fitted style available)
Black shorts/skort
White ankle socks
White trainers / footwear as appropriate (non marking soles)
What is not acceptable?
Jeans, cords, hoodies, cardigans, trainers, polo shirts, caps and sweat bands are not part of the uniform and should not be worn.
Black shoes should be worn that are sensible for the Academy and not of trainer appearance. Shoes must be completely black with no coloured soles/heels/laces/logos.
Skirts in any other style other than our compulsory styles.
Shirts and blouses must be tucked in with the collar fastened and ties knotted and worn in a traditional manner.
Hair colour and style must be appropriate for the Academy. Bright fashion hair colours are not appropriate.
Rings, large earrings , necklaces and bangles are not part of the uniform and should not be worn.
Nose studs and other facial and body piercing jewellery must not be worn.
Makeup should be discreet and nail varnish should be clear only.
Shoes – To clarify our expectations:
The shoe must be leather/synthetic leather/leather style 'school shoe'.
All black.
It can be laced or have Velcro, or straps.
It can have a pointed toe or rounded one.
The heel should not be excessive if it has one.
There should be no visible branding e.g. a Nike swoosh or the toe cover on a Converse shoe.
Styles and brands that are not acceptable:
Trainers of any type including, but not, exclusively –
Nike – or Nike style trainers
Converse – or Converse style trainers
Vans – or Vans style trainers in either leather or canvas
Adidas