Well done to all our wonderful 6th formers!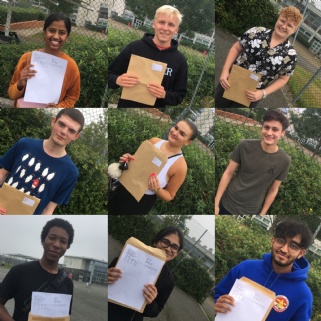 Left to right:
Santhiya is thrilled to be using her trio of top grades to go and study Mechanical Engineering at Warwick University.
Thomas is pleased with his amazing grades that have secured him a place reading Spanish and Philosophy at Oxford University.
Emily is super excited about her future studying History at Oxford University.
Angus is off to study Aeronautical Engineering at Loughborough University.
Sophie will be undertaking a degree apprenticeship with Mercedes Benz at Birmingham University.
Josh will be using his great grades to undertake a cyber security apprenticeship with The Bank of England.
Perfect results for Daudi means he's off to study at Nottingham University.
Subrina celebrating her fabulous grades that will allow her to follow her dream of studying medicine at UCL.
Sami is looking forward to studying medicine at Kings College London.
Who could have predicted the additional challenges and uncertainties that 2020 would bring students across the globe due to be sitting examinations this summer?
Contrary to reports in the national media, the vast majority of grades awarded to our students matched the grades we submitted to the exam boards. We based our data on a range of valid and reliable assessments. Although students did not have the opportunity to shine in the final exams, these grades must be viewed as a culmination of seven years of their hard work through their secondary and sixth form education. They have earnt their grades, like all students before them.
Today we celebrate many of the outcomes of this show of character, confidence, and creativity.
Every one of our 6th formers is a success and we look forward to watching them continue to grow into ever better versions of themselves.